Material
Hook

: 1 1/4 to 3 inches

Tag

: Silver thread, golden yellow floss

Tail

: Golden pheasant topping, Blue Chatterer

Butt

: Scarlet Berlin wool

Body

: Flat silver

Ribs

: Fine oval silver

Throat

: Pale blue, Widgeon

Wing

: Mixed. Golden pheasant tippet in strands, Golden Pheasant tail over. Scarlet, blue and yellow Swan. Florican, Bustard, Peacock wing and light, mottled Turkey tail;. Narrow strips of Teal and barred Summer Duck

Roof

: Brown Mallard over

Topping

: Golden pheasant topping

Head

: Scarlet Berlin wool
Original material
As written in the book:
(hook, 1 1/4 to 3 inches).
Tag: Silver thread and golden yellow floss.
Tail: A topping and Blue Chatterer.
Butt: Scarlet Berlin wool.
Body: Flat silver tinsel.
Ribs: Fine oval silver tinsel.
Throat: A pale blue hackle, followed by Widgeon.
Wings: Mixed - tippet in strands with strips of Golden Pheasant tail over; "married" strands of scarlet, blue and yellow Swan, Florican, Bustard, Peacock wing, and light, mottled Turkey tail; "married " narrow strips of Teal and barred Summer Duck; narrow strips of brown Mallard over; a topping over all.
Head: Scarlet Berlin wool.
Pattern pictures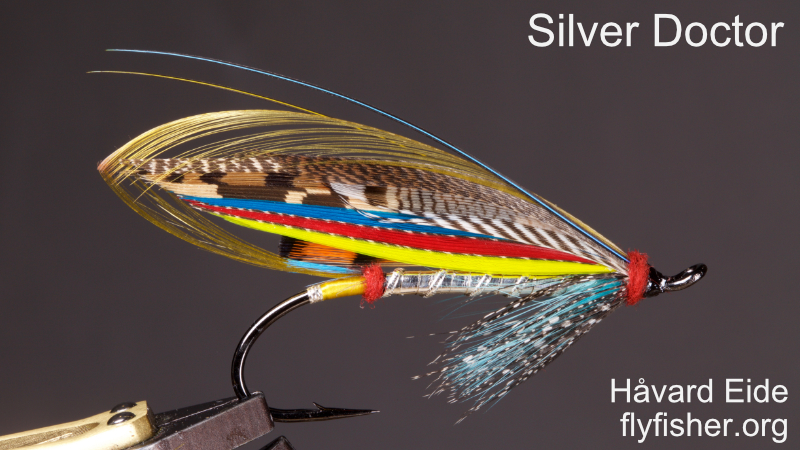 Addition: horns. Substitute: Kingfisher for chatterer